Matrix 24 - Structural Engineers
Website Design & Development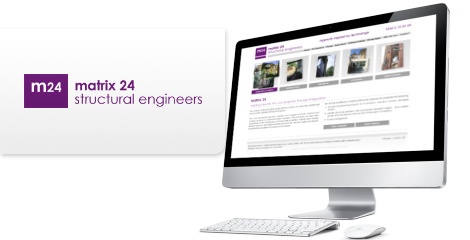 Matrix 24 had an immediate requirement to update their existing website to provide a more professional, sharp and clean look which attracts visitors to make contact. The Communications Group worked closely with Matrix 24 to provide designs, a look and presentation technology to present the company in the best possible light.
The target audience comprises largely of the following – "Cold callers" which might include Surveyors, Builders, Architects, Designers, End User Clients and "Warm referrals" which might include recommendations and follow-throughs from previous projects. The website is presented to meet the needs of all these various categories with easy access to overview case histories and clear calls to action.
The website features a comprehensive content management system which enables the company to keep it's content and portfolio up to date.
Features:
Website Design / Content Management System / Traffic Reports / Hosting / Maintenance